The partners CGI, Droniq and AZO are pleased to announce the start of the feasibility study to evaluate a space-based communication system for Urban Air Mobility and for drone operations to ensure safe, secure and reliable communication between Unmanned Aerial Systems (UAS) and ground stations, especially for remote-control functionality.
Oberpfaffenhofen, 14 February 2022 – AZO is pleased to announce that together with their consortium partners they have won the invitation to tender on SPACE FOR URBAN AIR MOBILITY (UAM) by European Space Agency (ESA) Space Solutions to assess space-based services for safe and efficient Urban Air Mobility.
The integration of drones into airspace is one of the most challenging evolutions in aviation and will change it in a revolutionary way. The European vision is that drones or air-taxis are fully and seamlessly integrated into all environments and airspace classes and operate safely and efficiently alongside manned aircraft. The "fully integrated sky" will be realised in phases through the integration of airspaces, U-space services as well as further operational applications.
Today, a large number of experts around the world are working on concepts and prototypes for UAS, services, infrastructure and components for a wide variety of applications, including their automation. It is expected that future public and commercial flight scenarios in the fields of goods transport (logistics), passenger transport, surveillance, life safety, and security will lead to an increase of air traffic which needs to be managed in a safe and secure, digital way. The operation of a large number of UAS in airspace requires stable communication, which is not always reliable with a cellular connection, especially at greater altitudes. An increasing flight density requires further a digital, automated system of air traffic management with the possibility for situational no-fly zones in emergency situations, rescheduling of flights and command via remote control.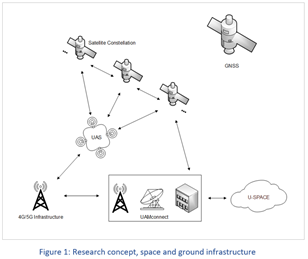 The 12-month enabling study aims to assess space-based services and systems for satellite communication as fallback technology or permanent availability in emergencies without a mobile network. The communication link offers to transmit a number of different data, for example positioning data, activation of no-fly zones, command & control, payload, aircraft performance, traffic or weather information. The implementation of a hybrid connection of a UAS to an Unmanned Traffic Management (UTM) system via a cellular network as well as satellite communication will close the gap between terrestrial and space-based communication to UTM.
CGI experts in mission-critical space software, control systems and platform solutions together with Droniq, experts for air traffic control and UTM software will contribute to the study with AZO experts for commercialization of space-based applications.
About the consortium
Droniq GmbH, based in Frankfurt am Main, is a joint venture between DFS-Deutsche Flugsicherung GmbH and Deutsche Telekom AG. It stands for the safe and fair integration of drones into the airspace. Droniq provides the UAS Traffic Management to control air traffic for future drone flight operations in Germany and sets itself up for the future role of U-space Service Provider. Fleet operators will have to integrate their flight operating data in a consolidated database to ensure air de-confliction and safety in the future. Via the LTE modem ("Hook-on-Device" -HOD-) developed by Droniq, drones are integrated into the airspace by transmitting their positioning data to the UAS Traffic Management System (UTM) for live air situation displayed to drone controllers. In addition to the necessary hardware and software, Droniq also offers comprehensive consulting and training services for drone operators and controllers. Droniq experts are available to answer all questions regarding the safe operation of drones, whether it is a matter of approval, safety assessment, operational concepts, selection of suitable aircraft, or the establishment of a drone fleet operation. Recently in 2021, Droniq demonstrated the first U-Space in Germany with the U-Space Reallabor in Hamburg.
CGI has been delivering complex, mission-critical space software systems for clients across Europe, Asia and North America supporting satellite navigation, communications and operations, to space enabled applications for over 40 years.
Founded in 1976, CGI is among the largest independent IT and business consulting services firms in the world. With 82,000 consultants and other professionals across the globe, CGI delivers an end-to-end portfolio of capabilities, from strategic IT and business consulting to systems integration, managed IT and business process services and intellectual property solutions. CGI works with clients through a local relationship model complemented by a global delivery network that helps clients digitally transform their organizations and accelerate results. CGI Fiscal 2021 reported revenue is C$12.13 billion and CGI shares are listed on the TSX (GIB.A) and the NYSE (GIB). Learn more at cgi.com.
The Anwendungszentrum GmbH Oberpfaffenhofen (AZO) is the management company of the ESA Business Incubation Center (BIC) Bavaria and therefore closely connected with the development of urban air mobility for many years. In 17 years, ESA BIC Bavaria has supported more than 181 start-ups, of which a large number are still located at the aerospace location Oberpfaffenhofen or in the immediate vicinity to the AirTechCampus and research airport Oberpfaffenhofen. One focus of technology development and company foundation is the development of electrical aviation associated with the U-space implementation, in which the AZO promotes new companies in aircraft construction, air traffic control (ATC), sensor technology and many more. Through its innovation competitions and extensive national, European activities to promote innovation, AZO has a broad industrial network in the field of the commercial use of space technologies and infrastructures (including satellite navigation, earth observation). This network consists of a large number of small and medium-sized as well as larger industrial companies, including telecommunications, space industry, research institutions, as well as funding and capital providers.
E.SAT GmbH, based in Aachen, is supporting the activities of Satellite-based Communication for Urban Air Mobility as an associated partner. e.SAT is developing a modern aircraft (Silent Air Taxi) for up to four passengers with a cruising speed of over 300 km/h and a range of 1,000 km. The innovative boxwing and unique electro-hybrid drive enable short take-off distances from almost every runway. e.SAT focuses on regional air mobility applications relying on the existing infrastructure of more than 350 airfields in Germany that enable short point-to-point connections with a significant reduction in travel time. e.SAT is also developing further UAS aircraft for surveillance and goods delivery applications.
Do you want to join the project? If you have experience in the areas of satellite communication and terminals, UAM market and applications, U-space implementation and legal framework, you are a UAS manufacturer or potential fleet operator and are interested in contributing to the project, you are warmly invited to contact Thorsten Rudolph (AZO): thorsten.rudolph@azo-space.com.