The Galileo Masters network is pleased to announce this year's overall competition winner, WAMO. This self-sustainable solution offers a real-time surface water assessment platform for flood warnings and algal monitoring and control with a free-floating platform that collects information and is able to stop algae growth. Galileo Masters is the global innovation competition that fosters cutting-edge satnav-driven solutions and has been held for the 18th time this year.
Oberpfaffenhofen, 15 December 2021 – AZO and the Galileo Masters network are pleased to reveal the 2021 overall winner of the Galileo Masters competition, who was announced at the Space Awards yesterday evening, on 14 December. With its real-time surface water assessment platform for flood warnings and algal management integrating precise Galileo positioning data, WAMO not only won the Galileo Hesse Prize: the solution also convinced the jury members for all of the prizes and challenges and was selected as the overall winner of this year's competition. Every year, Galileo Masters calls for submissions to find cutting-edge solutions using Europe's Global Navigation Satellite System (EGNSS) and the accurate, highly reliable positioning data it delivers.
At the 2021 Space Awards, the challenge winners were honoured by high-ranking representatives of the EU Agency for the Space Programme (EUSPA), the European Space Agency (ESA), the German Aerospace Center (DLR), and the German Federal Ministry of Transport and Digital Infrastructure (BMVI).
"This year's Galileo Masters is special for us because the agency contributed to the competition under its new name for the first time: European Union Agency for the Space Programme (EUSPA). We are continuously looking to support innovation and forward-thinking applications that will meet the needs of future generations, which is why we contributed to Galileo Masters with four challenges this year," stated Rodrigo da Costa, Executive Director of the EU Programme of the Space Programme (EUSPA).
The winning solution

WAMO is a real-time surface water assessment platform for flood warnings and algal monitoring and control. The free-floating platform integrates different sensors for accurate and real-time parameter observation. These sensors collect information on water level, precipitation, temperature, and pH along with parameters such as chlorophyll and nitrates. A low-power ultrasonic device is utilised to stop algae growth without harming aquatic life. WAMO's breakthrough is the integration of a high-precision GNSS-based system. This GNSS system is used for accurate water level measurements and positioning which, along with in-situ measurements, serve as input for flood models, flood warnings, and effective algal bloom control. WAMO is a self-sustainable movable platform that requires low construction, operation, and maintenance costs and is easy to implement in any water surface scenario.
Global innovation network for Galileo Masters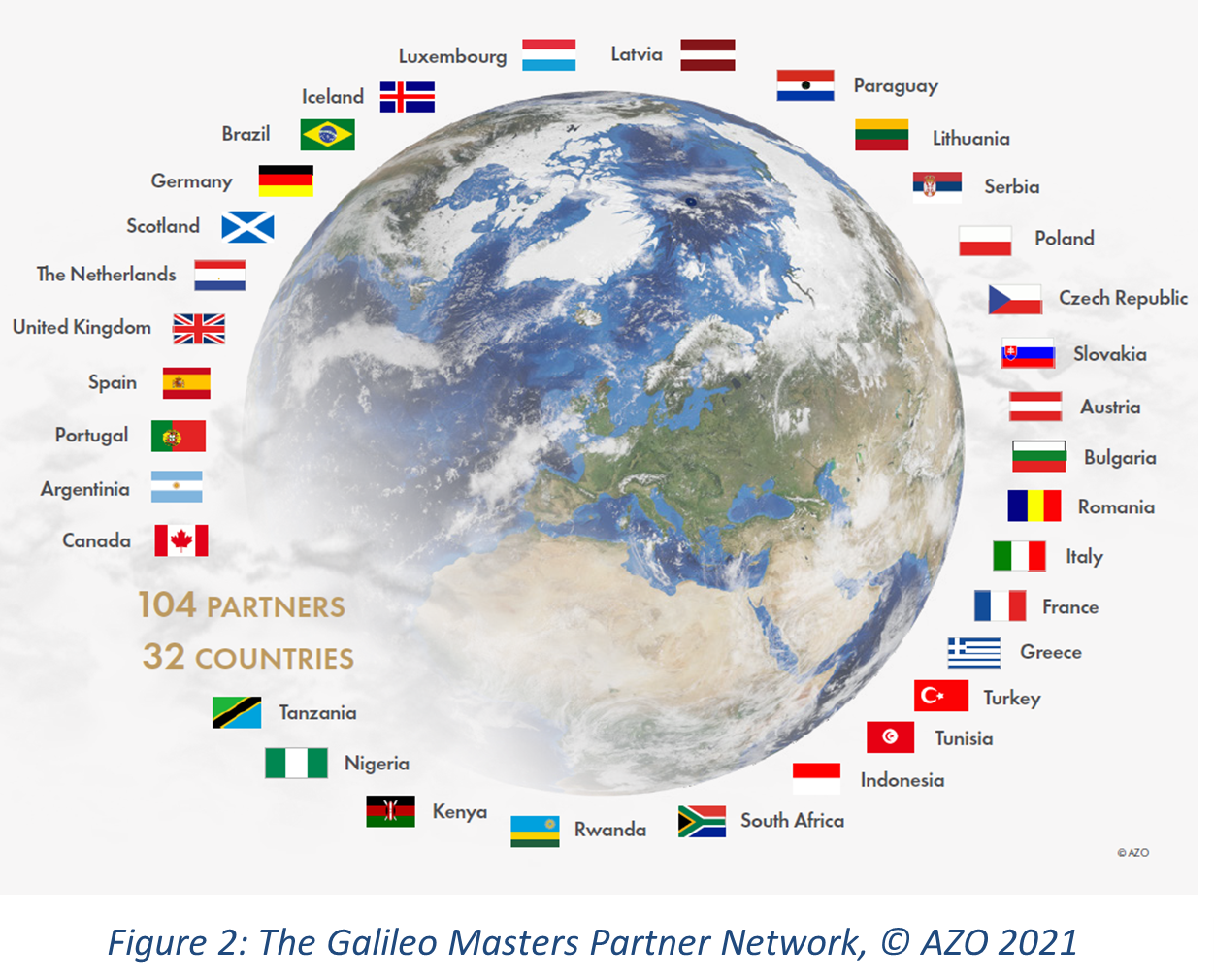 The Galileo Masters' network of 104 partners from 32 countries focuses on the regional implementation of the competition to ensure a high level of diversity while enhancing both job growth potential and regional development opportunities. Its strong backbone is formed by 18 prize partners co-financed by the European Commission, who are involved in specific areas at a local level to provide participants with valuable support in launching their businesses across Europe.
"It is encouraging to see that so many talented and motivated people participated once again in the Galileo Masters competition, despite the pandemic. This truly shows the great scientific and entrepreneurial potential in Europe," explains Timo Pesonen, Director General for Defence Industry and Space at the European Commission.
"Galileo Masters is playing a huge role in fostering Europe's space innovation sector in terms of satellite navigation technology," comments Thorsten Rudolph, CEO of AZO. "The top 100 companies that came out of this global innovation competition have now created more than 3,700 jobs and generated EUR 202 million in total turnover in 2020. In recent years, these companies have also raised around EUR 689 million in venture capital."
By fostering entrepreneurs and start-ups, the Galileo Masters' long-term objective is to strengthen Europe's competitiveness with high-tech space solutions on a global scale. This is why the European Commission established Europe's unique Galileo incubation programme for the top six winners of the Galileo Masters. For the fifth time, this programme will offer the year's winners access to dedicated incubation services (worth up to EUR 372,000 in total) at their preferred incubation centre in the Europe-wide Galileo Masters network.
The Galileo Masters works in close cooperation with institutional, industrial, and regional partners and promotes the development of high-tech GNSS-based solutions for Europe on a global scale.