On average, people inhale and exhale roughly 20,000 times a day. By default, they assume that the air breathe in is clean … BUT is it? According to WHO 91% of the world population is exposed to dangerous levels of air pollution. Not only is it an invisible slow health hazard, but it also leads to an economic burden estimated at $225 billion globally.
This macro view of this pressing problem should make ordinary people, authorities and businesses wonder what can be done at a micro level to prevent the aggravating the problem.
However,  there are challenges at a micro level as well: For instance, cities fail to understand the air pollution issue due to lack of granular data, "invisibility" of the emissions and lack of coverage of the fixed stations, while citizen awareness of the issue and its dangerous effects is very low.
Polisensio is actively working to tackle these challenges and to empower decision makers in (smart) cities and businesses with outdoor air quality data so that they can take action and fight air pollution. And it is doing it with a hardware + software solution.
First, Polisensio – the Copernicus Masters Sustainable Development Challenge winner 2018 – installs its environmental sensors on urban fleets of vehicles to collect data on different environmental parameters, registering and sending the datasets to its server. Second, the data is curated and then Copernicus Sentinel 5P satellite data is integrated, as well as other readings from the fixed measuring stations and general urban data for correlation purposes.
Further data analytics are performed and the results are displayed on Polisensio's web platform as heat-maps, forecasts and simulations. Customers get access to the platform or API.
The journey:
In 2017 the team behind Polisensio graduated from 2 accelerator programmes Startup Wise Guys and Katapult accelerator, which provided valuable mentorship and pilot opportunities for the solution. It was during these times that the team learned about Copernicus satellites and considered the possibility of using their data for complementary purposes. Winning the Copernicus Masters Sustainable Development Challenge in 2018, the team applied for the Copernicus Accelerator, got accepted and started its mentorship with Mr. Armengol Torres which ended in late 2018.
During the European Space Week in Marseilles 2018, Polisensio was awarded the Copernicus Masters Sustainable Development Challenge prize, ending the year on a high note by also managing to finish the R&D process of its hardware and onboarding its 1st paying customer in Holland.
2019 brought other developments and challenges, which the team is managing by looking for talents and of course clients, while continuing to build up the software side, the web-platform, for its air pollution monitoring and management system.
Polisensio in numbers for the past 15 months:
Pitched in 30+ International competitions & bootcamps Onboarded 4 logistics & public transport companies as partners
Tested the hardware in 3 capitals in Europe
Launched the MVP hardware in Copenhagen
Mass production-ready hardware
Got the first paying customer in the Netherlands
Graduated from 3 renowned European accelerator programmes (Copernicus Masters, Startup Wise Guys, Katapult) and participated in several corporate innovation programmes (Telia JUMP, HUB:RAUM by Deutsche Telekom, Vienna Business Agency, Accelerate by E.ON Denmark)
Things to look forward to in 2019:
Fully developed solution (software)
Talent recruitment
Full sales mode -> ON
Opening a seed investment round
Deploy a large-scale project in Copenhagen & onboard the municipality (in the works already)
Winning the Copernicus Masters Sustainable Development Challenge and beeing able to participate in the Copernicus Accelerator programme really boost our business to the next level. We highly recomment the Copernicus Masters as an innovation platform for young entrepreneurs.
Find out more about Polisensio on Twitter!
About Razvan Gheorghe Suta: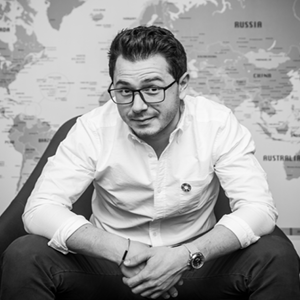 Razvan's journey in entrepreneurship started as a startup intern and volunteer at@Kickstart Aalborg, in Denmark during his university years. In late 2016 after winning a hackathon, he became a founder himself when he created @Polisensio. Fast-forward to 2019, he has the COO role and together with his fellow founders is bringing the solution to the market.