During the launch of 4 additional Galileo satellites aboard the Ariane 5, the Federal Minister of Transport and Infrastructure Andreas Scheuer visited the AZO Anwendungszentrum GmbH Oberpfaffenhofen at the German aerospace hub Oberpfaffenhofen.
As part of this visit, AZO presented Minister Scheuer their extensive range of products and services and the promising future potential.
Under the motto "Evolution in E-Mobility", the minister was able to experience the performance of 7 products – and tested some of them personally:
BEST RUNNING SENSOR to improve running style with AI & 70 g in-shoe sensor of the AZO incubatee evalu
SMART URBAN E-MOBILITY – the world's only foldable self-balancing electrical vehicle of the AZO incubatee UrmO
NEXT LEVEL E-SKATEBOARDING – two in-wheel motors with top speeds of up to 40 km/h and
WORLD STRONGEST E-BIKE – E-Drive Power with 120 newton meter – both products from AZO shareholder TQ-Systems GmbH
FASTEST LAP TIMES – 3D pressure probes for Formula 1 racing cars of the AZO incubatee Vectoflow GmbH
E-FLY UAV – the world's most efficient electric vertical take-off UAV for professional use by AZO Alumni Quantum-Systems GmbH and
THE NEW SPACE AGE – the world´s first high-performance LOX/Hydrocarbon rocket engine for small-satellite launchers alternative to toxic fuel engines from AZO incubator Isar Aerospace Technologies GmbH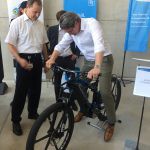 Here you find the entire press release.