Traffic sucks – even public transport. Most people would agree to that. Expressing discomfort is easy, but finding adequate solutions is key to make us feel better about living and getting to places in Europe's cities.
One innovative solution is a creative sounding cross-over trademark, inspired by Transformers (movie about living, human-like robots with the unique ability to turn into vehicles or beasts) and today's nagging issue of efficient public transportation in the hectic surroundings of our cities.
ESNC Winner 2016 Offers Real-Time Solution for Transportation Operators
Unexpected bus delays are a pain. Caused by traffic jams, special events, car accidents, and other disruptions, they happen on a daily basis. Since buses are scheduled to perform multiple trips per day, every delay creates a snowball effect on the following trips, negatively impacting more and more passengers. And their mood goes from happy to crappy.
At present, no solution actually solves this problem in real-time other than by using reserve buses, which is very costly and may not comply with scheduling rules.
Optibus OnTime™, the European Satellite Navigation Competition's (ESNC) Israel Regional Winner 2016, is a unique cloud-based solution that helps public transportation operators address problems that trigger bus delays before they impact passengers.
Optibus OnTime™ predicts such delays and enables operators to assign affected trips to other drivers. By using Global Navigation Satellite System (GNSS) data, the solution constantly tracks the individual location of each bus, validating that it is on time, according to its original schedule. If not, it will alert the operator and provide options to overcome the problem in real-time, by creating adjusted schedules that are cost-effective and still comply with all of the predefined preferences, constraints, and regulations at hand.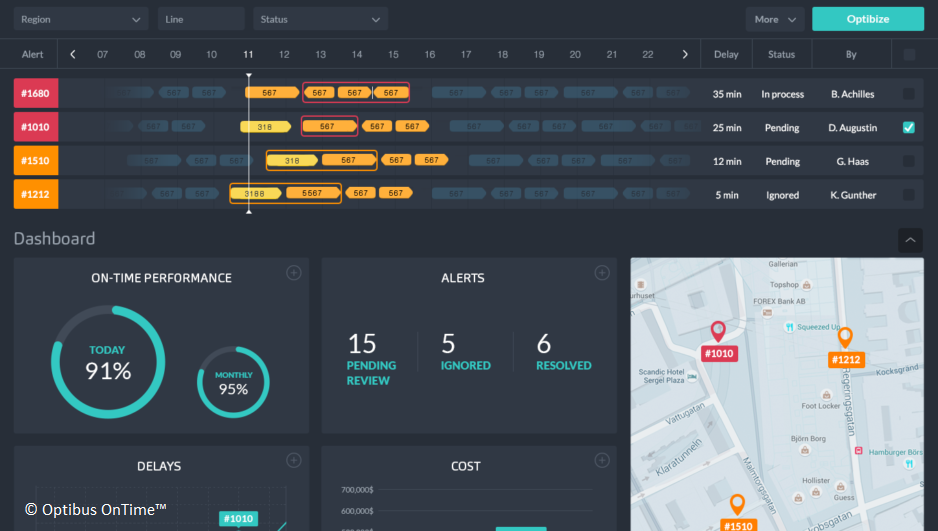 Optibus OnTime™ uses its unique Optibize™ technology (patent pending). Developed for the transportation industry, Optibize™ is a revolutionary real-time technology that performs super-fast optimisation of vehicles and driver schedules while factoring in an unlimited number of preferences, constraints, and regulations.
This is a prime example of how the Urban Agenda for the European Union (EU) is implemented in the form of a future-oriented GNSS application.
Urban Agenda for the EU
Let's have a look at the European Commission's definition: "The Urban Agenda for the EU is a new working method to ensure maximum utilisation of the growth potential of cities and to successfully tackle social challenges. It aims to promote cooperation between Member States, Cities, the European Commission and other stakeholders, in order to stimulate growth, liveability and innovation in the cities of Europe."
To tackle social challenges definitely includes traffic, clean transport and urban mobility. No doubt about it. Urban mobility and Intelligent Transport Systems (ITS) are two essential aspects for growth in EU cities. Innovative GNSS Applications like Optibus OnTime™ can contribute to this endeavour, ultimately benefitting European citizens.
A brief, but important digression: Providing benefits to European citizens is most certainly crucial, especially since EU and its flagship space programmes are celebrating the 60th anniversary of the signing of the Treaty of Rome (EU at 60) this year. The ESNC specifically dedicated the "EU at 60 – Space for Europe" Special Prize, presented by the European GNSS Agency (GSA), to further push its prosperity with space-based applications.
And this prosperity through forward-looking space applications is directly connected to the topic of urban mobility.
GNSS Offer the Data to Create Sustainable Solutions
How can GNSS offer what it takes to develop solutions for urban mobility with clean transport applications? Satellite navigation is indispensable when it comes to accurate, reliable and continuous localisation. High accuracy is pivotal for Locaction Based Servies (LBS), vehicle and asset tracking and navigation. The uniqueness of the European GNSS is the combination of both space and ground services in terms of exploitation of the respective data sources as synergies. Thereby, GNSS and its applications – just like Optibus OnTime™ – are able to improve traffic flow and vehicle efficiency, guide users, and help tracking.
Do you want to learn first-hand who these entrepreneurs and startups are and what kind of solutions they provide based on GNSS? Then come and visit this year's hot spot for interaction with the space sector: The European Space Week.
The best business cases for commercial space applications 2017 are presented in Tallinn, Estonia, during the joint Awards Ceremony of the ESNC and the Copernicus Masters.
Register now www.eusw2017.eu/ and don't miss out on Europe's biggest space event.
We look forward to seeing you in Tallinn!
About the European Space Week
The European Space Week brings together the most important space stakeholders, companies, partners and visionaries in Europe pushing the topic of space in Europe and beyond. It is organised by the European Commission (EC) under the auspices of the Estonian Presidency of the Council of the EU and co-organised by the European Space Agency (ESA), AZO Anwendungszentrum GmbH Oberpfaffenhofen and Garage48.