For the air transportation industry safety is of the utmost importance. Airports around the world have to check the runway's condition as well as the visual and radio systems located close to the airport runways. The runway conditions need to be inspected periodically from the air to make sure it works and to comply with the national regulations based on international standard.
To perform the required flight inspections, airports use flight inspection airplanes with onboard sensors. This practice is very cost-intensive. For that reason, the Spanish startup CANARD hit on another idea: Why not use a drone to perform the inspection of runways instead of such an expensive solution?
Find out more about the former ESA BIC Madrid incubatee's pioneering solutions which have been recognised internationally with more than 16 innovation awards, including the 2016 ESNC UAV Systems for Civilian Applications Special Prize.
Get inspired by their entrepreneurial spirit and discover how the ESNC could become a door opener for your business ideas as well!
AZO Project Manager Luisa Wagner (LW) interviews Ana Perez (AP), Chief Marketing Officer (CMO) at CANARD.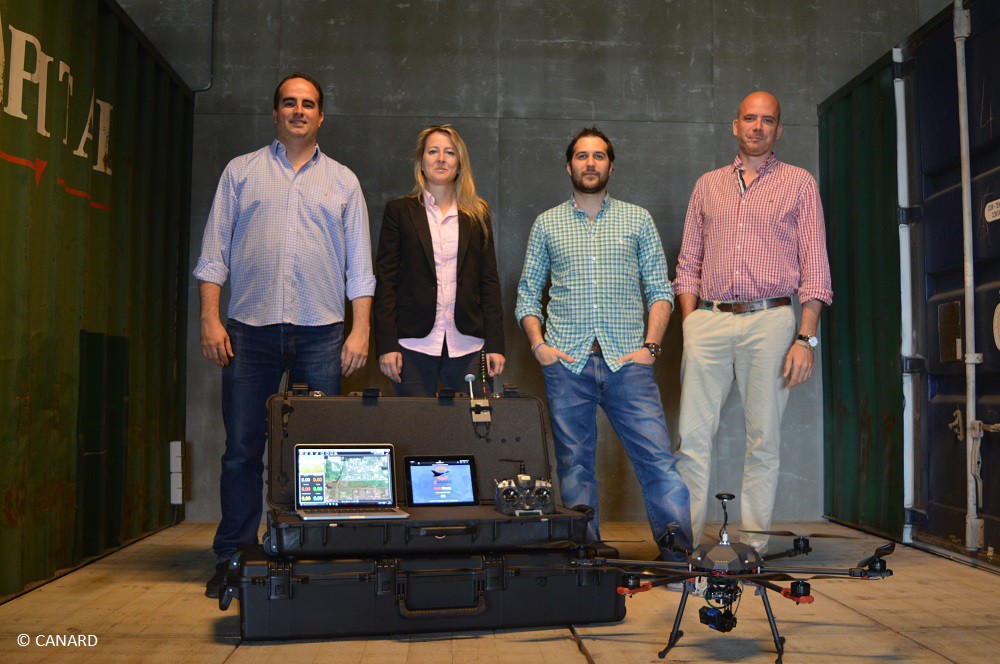 LW: Please give us a sneak peek of your product and the team behind it.
AP: Our startup Canard provides leading-edge technology solutions to advance the practice of flight inspections and calibration of navigational aids (navaids) and airside facilities in airports.
Navaid is equipment located in the runways helping pilots to land safely. Using remotely piloted aircraft systems (RPAS) for these mandatory flight inspections saves airports managers time and money in their maintenance activities.
CANARD is already commercialising Precision Approach Path Indicator (PAPI) lights inspection, and developing R&D projects such as instrument landing systems (ILS), area navigation (RNAV) approaches, and full inspection of runways and taxiways.
Established in December 2015, CANARD has recently signed its first contract with Aeropuertos Españoles y Navegación Aérea (Aena S.A.), the world's largest airport operator by passenger numbers.
LW: What was your company's biggest challenge so far?
AP: The main obstacle consists in the regulations for drone operations. Regulatory constraints for RPAS operations are still very restrictive. In addition, operations inside an airport environment add an extra layer of difficulty. There is a clear unstoppable trend towards allowing the use of unmanned aerial vehicles (UAVs), but the implementation of new laws is slow.
Furthermore, due to the fact that these regulations differ from country to country, we always have to request case-by-case permissions which also makes it challenging.
On the other hand, the leaders in flight inspection are well-established companies, benefitting from long time relationships with airports. So there is always a risk for startups like us that new players could be quarantined in the first instance.
LW: Can you explain the main ingredients of your recipe for success?
AP: CANARDS´s competitive advantage is based on our technical, operational and regulational knowledge and our good relationships within the aviation industry. Our team, composed of outstanding aerospace, telecommunications, and computer science engineers, comes from the aerospace industry, with experience of working in a high demanding ecosystem (e.g. military projects). Thanks to this broad experience, CANARD is specifically and successfully focusing on operating in airports. Last but not least: Our approach is radically different compared to our current competitors, as we are disrupting the market with new technology and state-of-the-art UAVs.
LW: How did the ESNC and its network help you to kick-start your business case?
AP: CANARD's excellence has been recognised internationally, receiving 16 innovation awards, including an ESNC Special Prize in 2016.
After our participation in the ESNC 2016, and thanks to the extensive support provided by the ESA BIC Madrid Region, further great opportunities arose so that today CANARD's business is really kicking off! An example is our new collaboration with the European Satellite Services Provider (ESSP). Together with ESSP, we are working on a R&D project to validate new area navigation approaches using RPAS. We will soon start with the inspection of these systems using a localiser performance with vertical guidance (LPV) approach. This means that we will inspect the approximate values that provide vertical guidance for the pilot through global navigation satellite system (GNSS) signals augmented by the European geostationary navigation overlay service (EGNOS).
LW: Let's reach for the stars – what is going to happen in your company's future?
AP: The introduction of drones will transform the flight inspection industry. CANARD's system is the culmination of extensive research and development and we aim at becoming the global leader in terms of innovation in the flight inspection market. Our overall goal is to perform inspections in airports all over the world.
Find out more about the disruptive startup at its official website www.canarddrones.com