Copernicus Data and AI to Protect the World's Coral Reefs
Celebrating its 10th iteration in 2020, the international innovation competition Copernicus Masters awarded prizes in 22 categories to outstanding products and services based on Earth observation data. All the winners presented their ideas at the Space Pitches session, and nine challenge winners were honoured during the online Space Awards on 8 December as part of European Space Week 2020. Reef Support is an automatic warning system that uses artificial intelligence and satellite imagery to detect coral bleaching, algal blooms, sediment plumes, and debris caused by humans. This pioneering technology was crowned the overall winner of the Copernicus Masters 2020.
Gilching, 8 December 2020 – Coral reefs around the world are not only crucial to maritime biodiversity as the habitats of many species of fish, algae, and other marine life. They also have great economic significance as rich fishing grounds, attractive tourist destinations, and natural coastal protection barriers.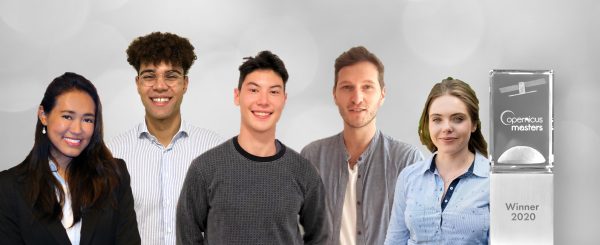 Reef Support addresses both the environmental and economic aspects at hand with state-of-the art technology. Its user-friendly online monitoring and maintenance tool uses AI and satellite imagery to track coastal reef health and also provides guidelines for crowd and pollution control, debris management, and coral restoration. Different types of data can be combined to form a picture of reef ecology across a wide range of spatial and temporal scales. The Reef Support platform can be used for strategic planning and resource management in aquaculture farming, as well. Its deep learning algorithm adapts to user applications and regional tendencies. Small business owners can quickly access its subscription-based service, which is available for both iOS and Android. After winning the Copernicus Prize the Netherlands, this innovative startup edged out more than 200 other ideas to become the overall winner of the Copernicus Masters 2020.

Copernicus Masters driving new EO businesses
Acting as "Europe's eyes on Earth", the Earth observation programme Copernicus provides open access to up-to-date information that can help better understand and sustainably manage our planet. Companies and entrepreneurs can benefit from vast amounts of data related to climate, atmosphere, land, marine, security, and emergency management in developing new solutions for global challenges. Since 2011, the Copernicus Masters has been driving entrepreneurial talent and new business models that are needed to convert EO data into sustainable services for a wide variety of industries.
"Copernicus Masters has proven to be the perfect instrument to reach entrepreneurs to become a reality in Earth Observation and tackle challenges such as climate change, technology revolutions, shifts in geopolitical power or humanitarian crises, and to support economic growth, safety and security, quality of life and sustainable development," stated Jan Wörner, ESA's Director General, in a statement for the Copernicus Masters results brochure.
This year, the Copernicus Masters featured nine Challenges presented by first-class industrial and institutional partners, along with 13 Copernicus Prizes powered by the European Commission (EC) and organised by regional Prize Partners as part of a growing network of 107 European affiliates.  "Prize Competitions will be further expanded  under the new European Commission Space Entrepreneurship Initiative CASSINI. A major pillar of this initiative is to put in place a European Space Fund of EUR 1 Billion is to boost start-ups and SMEs, in order to improve access to finance and dedicated seed and scale-up funding", stated the European Commissioner for Internal Market, Thierry Breton in his opening speech at the Space Awards Ceremony.
In the 2020 competition, 591 participants from 47 countries submitted 220 new Earth observation business cases and application ideas. The winners of the nine Challenges held by the Copernicus Masters partners were recognised during the Space Awards by high-ranking industry and institutional representatives from the likes of the European Space Agency (ESA), the European Commission (EC), the German Aerospace Center (DLR), Planet, BayWa AG, Airbus and sobloo, the German Federal Ministry of Transport and Digital Infrastructure (BMVI), and AZO Anwendungszentrum GmbH Oberpfaffenhofen, the organiser of the Copernicus Masters.
"The Copernicus Masters has given a significant boost to the rise of the Earth observation industry in Europe," explained Thorsten Rudolph, CEO of AZO. "Out of the more than 4,300 innovative ideas that have been entered since 2011, the top 100 companies have created more than 2,800 jobs and generated EUR 153 million in total turnover in 2019. In recent years, these companies have also raised around EUR 274 million in venture capital."
The Copernicus Masters' close cooperation with institutional, industrial, and regional partners promotes the development of high-tech EO products and services for Europe on a global scale. Next year's submission phase will start on 1 April 2021.