More and more German startups are making a name for themselves in the fast-growing NewSpace sector. One of the new actors in the scene is the ESA BIC Bavaria Incubatee Celestial. The Bavarian startup founded by Johannes Schumacher and Mayank develops communication hardware components for satellites that are to be used for terrestrial applications and in space. With more and more satellite constellations being deployed at a fast pace, Celestial aims to develop antenna systems and communication services for small satellite missions by space startups or research institutes. Its reconfigurable communication system with multi-frequency antenna systems allows in-orbit configuration and is especially resistant to radiation to allow missions to take place in high-radiation Earth orbits. The team thereby reduces weight and cost and guarantees a longer life for its components.
In the long term, the company wants to lower the space mission threshold by increasing the performance capabilities of small satellite communication and enable small satellite missions at higher orbits and even in deep space.
Celestial joined ESA BIC Bavaria at its location in Nuremberg in 2020 and has since been collaborating with the Fraunhofer Institute for Integrated Circuits (IIS). Besides already ranking third in the INNOspace Masters OHB Challenge in 2019, Celestial was also honoured with the Space Award at IGLUNA 2020 for its live demo.
Pia Feurstein (PF), ESA BIC Bavaria Project Manager at AZO, interviews Johannes Schumacher (JS), Founder and Managing Director at Celestial.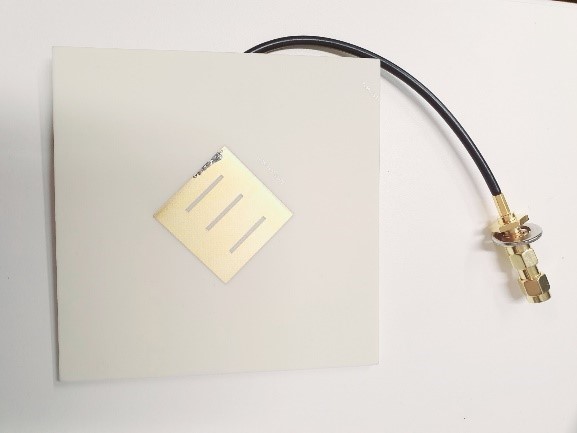 PF: Tell us a bit about your product and the team behind it.
JS: Celestial's products are being integrated by satellite developers. Celestial offers an antenna standard model and a model tailored to customer mission requirements. Our antennas are multifunctional to enhance the communication, operational range, and time of low-powered small satellites and Unmanned Aerial Vehicles (UAV).
The small satellite S-band patch antenna that we offer has a high gain and efficiency relative to its form factor. This makes its performance 3 times better than the baseline performance of most competitors. The offered antenna has one of the highest gains in the industry. The next generation of antennas will also generate power, which is a novelty. This is possible due to the innovative antenna material used and optimised antenna design developed in-house.
Celestial was founded by a space engineer with great intuition for the industry and an industrial engineer with effective management abilities to enable innovation. Our team is spread internationally, culturally diverse, and very resourceful. We value ambitious visions, excellent engineering, and result-oriented work.
PF: What do you think about the NewSpace market in Germany and where do you position yourself in it?
JS: The national ecosystem has a strong manufacturing and industrial research sector. This is particularly the case when you consider traditional, family-owned medium-sized companies. However, there's a lack of satellite manufacturing and related suppliers compared to other European countries. We aim to fill this gap with our established network for general antenna production. This includes RF component suppliers, electronics manufacturing service providers, testing facilities, coating services, and report and analysis agencies. We want to involve this industrial ecosystem in R&D projects and later also as a potential long-term supplier. In the NewSpace market, Celestial is a high upstream-focused supplier of communication subsystems. We are looking to bring value to satellite developers who integrate Celestial's products.
PF: How do you feel about Bavaria as your location to start and grow your company?
JS: We selected the ESA BIC location in Nuremberg because of our technical partner Fraunhofer IIS and its R&D focus. We were interested in the ESA BIC Bavaria because of our existing partners and the strong ecosystem, even before choosing a specific location. The most relevant aspect was a dedicated focus on the space industry. However, what we value in Bavaria are the industrial facilities in Oberpfaffenhofen and Ottobrunn, as well as the greater Munich area. Universities with space engineering capabilities and the local startup ecosystem in both Munich and Nuremberg offer a lot of support. Besides that, Bavaria has a strong industry with diverse expertise for hardware development. Overall, the local ecosystem has a lot to offer a space startup that focuses on hardware development.
PF: What is currently the biggest challenge at Celestial?
JS: One of the main issues we were facing was the lack of innovation in our products. The patch antenna developed has a performance 3 times as good as the baseline performance of most competitors. However, it is still only an incremental improvement over existing solutions and not a novelty in itself. This has been the main concern for some investors in terms of Celestial's ability to establish itself on the market and its long-term competitiveness. To address this, a concept for a highly integrated multifunctional antenna has been developed. The resulting product will be a novelty to the market. The IP generated during this R&D will remain in-house and suppliers and partners have already been identified for the activity. We are ready to start prototyping and testing, which will start immediately after funds have arrived.
PF: How is ESA BIC Bavaria and your technical partner Fraunhofer IIS supporting you?
JS: Fraunhofer IIS has been providing support in antenna development and acting as a service provider for antenna testing. Dr. Alexander Popugaev has been providing engineering support for the development of the patch antenna from an early stage. This support was provided in the form of reviews of documents, discussions via phone, and performing simulation experiments. After development, its testing site in Erlangen-Tennenlohe is where we validated the antenna performance. We were also able to test the functionality and performance of the patch antenna at the ISS anechoic chamber.
ESA BIC, through AZO, has been organising workshops on various topics which have given useful input and provided connections to the industry. We are currently expecting its guidance through the Booster program to channel us towards the most appropriate funding programme for our activities after the incubation period.
PF: Do you have any advice for other founders-to-be?
JS: Based on my own experience, I can give some good pieces of advice that probably every founder will understand:
Product development
Product development has to be customer focused. This is a requirement for reaching commercial success at a later stage and provides development guidelines. Customer-focused development refers to the identification of a problem/need in the industry and the development of a concept for a tailored solution/offer. As a next step, the product/market fit has to be verified in interaction with multiple customers. During this interaction, the desirability of the solution and, more importantly, the willingness of the customer to pay for the solution needs to be confirmed. Starting with these activities will provide clear guidelines for technology and product development. This procedure is the most time- and cost-efficient because the risk of re-design at a later stage can be minimised.
Business development
To be able to develop a business model, internal value creation activities have to be defined and external resources and partners lined up. Taking into account the related cost and prospective profit, the attractiveness of the project can be assessed based on customer interactions. If the product development results in a clear profit, the activities can be scaled up to a meaningful number of fulfilled customer orders, and if the related market allows for the prospective revenue, the business case has been validated.
Project management
The overall goal should be broken down into smaller sub-tasks that are assigned to the team members. Also, timelines, budgets and buffers for unforeseen extra costs and delays should be considered. Throughout the activities, it is necessary to frequently compare the planned progress with the actual status. This will indicate whether the set deadlines can still be adhered to. Only the identification of complications ahead of time enables mitigation measures to be prepared and reduces the risk of overall project failure.
PF: Let's reach for the stars – what is going to happen in Celestial's future?
JS: An in-orbit technology demonstration mission for the s-band patch antenna is scheduled for September 2021. Similar missions are anticipated for antennas currently in development. In addition, we also plan to extend our product portfolio to address additional industries. The antenna currently offered has one of the highest performances on the market. This proves the team's engineering capabilities and gives credibility to the company. Thanks to our technical expertise, we are able to adapt the antenna design to suit additional products. For example, integration into a GNSS terminal or UAVs. Either way, Celestial's product portfolio is set to grow. This concerns mainly antennae at first but will be extended to other small satellite payloads as well. We envision becoming a system operator and integrating our proprietary antenna and transceiver into a commercially available satellite bus (Space segment). Celestial's ultimate goal is to spread its business model vertically along the entire value chain.