AZO has moved to a new office building at the Air Tech Campus Oberpfaffenhofen. The modern workspace offers an agile working environment and allows for meetups in an attractive coworking area. Two terraces grant a spectacular view over the special airport and can be used for meetings or casual get-togethers.
After more than 12 years, AZO – Anwendungszentrum GmbH Oberpfaffenhofen – has left it office space at Friedrichshafener Straße 1 to a more attractive location. The new building is at the heart of the Air Tech Campus and the main building of Special Airport Oberpfaffenhofen. Many high-tech companies from the aerospace sector are based at Air Tech Campus to develop, research, and test their latest technologies, amongst them OHB Systems AG, Dornier Seawings GmbH, Lilium GmbH, Mynaric AG and RUAG AG.
The new AZO headquarters promise a variety of modern office workspaces, including a spectacular view over the landing strip and a fully-fledged studio. The team will have the option of working from conventional desk space in bright rooms or moving to the coworking area. A large conference room and the option of accessing the roof deck with panorama windows will provide a pleasant environment for formal meetings and events.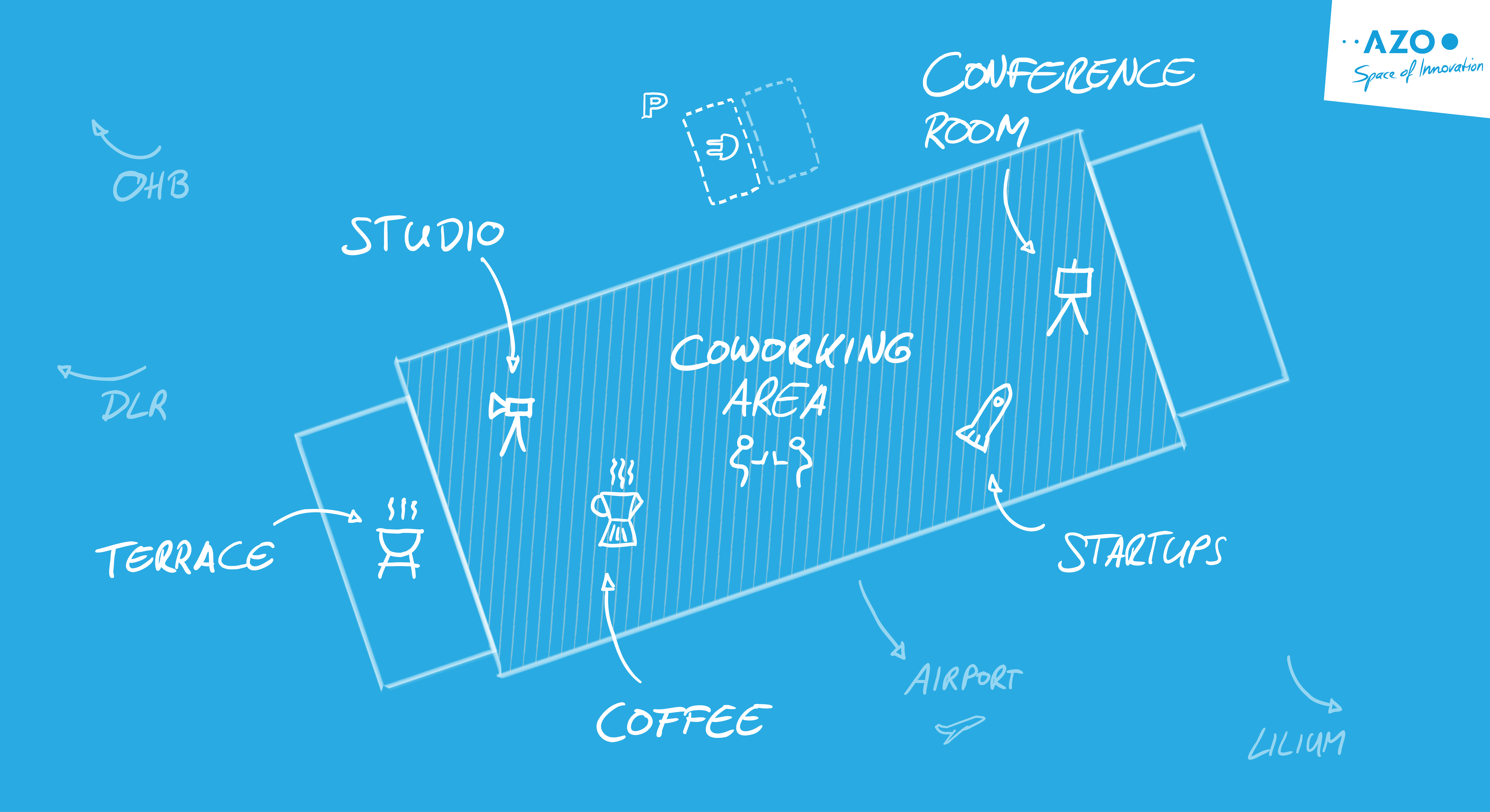 Visit us at our new office location at:

AZO Anwendungszentrum GmbH Oberpfaffenhofen
Claude-Dornier-Straße 1
Gebäude 401
82234 Weßling
Germany
Phone: +49 8153 29800 10
ESA BIC Bavaria and its new incubatees have moved together with AZO, as it is managing the incubation programme. ESA BIC Bavaria startups will now have access to a shared working area, in addition to the office spaces dedicated to their own activities.
"The public and private space sectors are evolving rapidly, and new opportunities are opening up, particularly in the new space sector," comments Thorsten Rudolph, CEO of AZO. "In Bavaria alone, over 200 new space companies have been founded and 80 more are expected to be established by 2025. With the coworking area in our new office including space-related startups, we want to create a place where productivity and dedication can be enriched by a constant exchange of ideas to foster entrepreneurship and innovation."
The startups incubated at ESA BIC Bavaria will also benefit from the close proximity to AZO technical location partner DLR (German Aerospace Center). In addition, the infrastructure of the special airport and the test field for unmanned flights (TUEF) add considerable value to the startups and have been used by various alumni of the ESA BIC Bavaria programme in the past.
The AZO support team will now be even closer and ready to offer the necessary support. Incubatees are welcome to join the coworking area and establish better connections with each other and with other relevant AZO space-related projects.
"With our new building and the flexible workspace, we want to create an open atmosphere that we can adapt to fit all working habits. It is important to us to evolve our innovation network and make it fit for the years to come," concludes Thorsten Rudolph.