Quality assurance technology is not only a major topic within the space sector. The Munich-based software startup nebumind is active in the field of production and offers companies new insights in the form of digital twins in order to optimise manufacturing processes. An interview with Caroline Albert, CEO and co-founder.
Who is nebumind and how do your clients benefit from your technology?
nebumind is a software startup from Munich, which offers production companies new insights into their manufacturing and helps to constantly optimise manufacturing. As production steps are becoming more and more automated and complex, optimisation potential is shifting from "more efficiency" to "more quality". This is precisely where the software from nebumind comes in: it collects data from machines and sensors and prepares it as a digital twin of the manufactured components. The software thus constitutes a comprehensive information source for each component.
Manufacturers use the software in predevelopment to establish their process understanding more quickly. At the same time, the software is used in ongoing production to report quality defects if
these can still be rectified or even prevented. This saves not only a lot of time but also a lot of money for manufacturers.
Your background is within the aerospace sector. How did you discover that your technology could also be useful for other sectors?
Quality is a major topic not only within aerospace, but also in all quality-critical industries. These include, for instance, the automotive sector, medical technology and the energy industry. The fact that we are already in contact with companies here confirms our understanding that manufacturing quality is once again coming to the fore in other industries as well.
What was your most unexpected use case?
Our software can actually be used so broadly that we anticipate a great many unexpected use cases over time. However, we are currently trying to focus on the manufacturing industry: we already have a wide range of clients here who we want to serve with processes such as 3D printing, milling, welding, bonding and composite manufacturing.
However, people have also already approached us with use cases, such as monitoring ski slopes and the condition of their snow or preparing a patient's medical data as a digital twin. There clearly is potential for expansion.
What have been your favourite and your worst moments since founding nebumind?
The best moment is always when we gain new employees. This not only shows us that we are growing, serving more clients and can expand our software, but above all confirms our vision that we share with the new employees – a real motivation boost for the whole team, you could say. Our worst moment therefore also happened in our founding phase, when a co-founder, who was to be primarily responsible for our software development, left us. As is widely known, good software developers are hard to find. Fortunately, we were able to find the perfect successor within our earlier network, and they now provide us with excellent support. One way or another, we can say: even when it was uncertain how we would continue, it was clear to us that we would continue. We are absolutely convinced of our software and definitely want to establish it in manufacturing.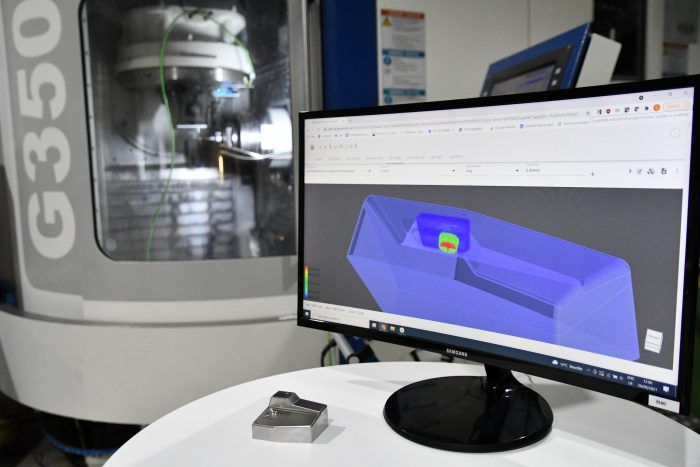 In 2021, you took part in the Space Tech Expo Europe conference in Bremen. Where do you position nebumind in the European space community and how can you benefit from the ESA network?
The space industry around the world finds itself in a very exciting transitional phase. Many small companies are pushing their way into the industry and established players are attempting to drive forward their digital transformation. We see nebumind and our software as enablers on both sides: for young companies to bring their production up to the next level more quickly, and for established companies to adapt to the speed and flexibility of the new players.
Do you have any tips for other women who are still hesitant to found a company?
My advice is: start immediately. And ideally network and interact with other female founders. Each of us faces the same considerations and challenges and can benefit from each others' experiences. This alone gives us a feeling of security and hopefully allows the last doubts to disappear.
What's next – where will nebumind get involved in Industry 5.0?
In our view, Industry 4.0 was and remains a rather unstructured race with buzzwords that everyone interprets and uses differently. This is currently improving and we are seeing that promising technologies are consolidating and umbrella terms are forming that are becoming more familiar to everyone. However, this also requires basic concepts to become established. We think that we are one of these basic concepts and are thus helping to pave the way for Industry 5.0.
How did the support from ESA BIC Bavaria help you to set up your company?
The financing that we received from ESA BIC at a very early stage naturally helped us to tackle costly topics such as our website and a patent registration in good time. ESA BIC also helped us to develop our network, even beyond space. And ESA BIC is still by our side for networking today!