Could you imagine a solution that guarantees safe and optimised logistics for perishable goods?
We are happy to share with you that this is possible! The ATLAS 2021 Open Call winner New Generation Sensors has developed a solution that aims at making the perishable goods supply chain more secure in terms of data and monitoring. Their solution, TrackOne, will enable the identification, characterisation, tracking, tracing, and monitoring of specific goods in the supply chain. Data corresponding to the worldwide standard for supply chains is shared in a trusted manner based on a distributed blockchain ledger.
Ms Intza Balenciaga, project manager at AZO, recently spoke with Mr Claudio Salvadori, CEO of New Generation Sensors, about how the company's innovative solution will contribute to the ATLAS Interoperability Network by providing first-class data-driven services to tackle agricultural challenges related to asset tracking and fleet management.

---
· Please give us a sneak peek of your solution: Why is it relevant in agriculture, and how did the idea(s) behind it emerge?
Mr Claudio Salvadori: Agricultural products are perishable goods, and one of the critical parts of their handling relates to transport and storage. With TrackOne, we aim to achieve full transparency in the supply chain and greater security in shipping perishable goods from farm to fork.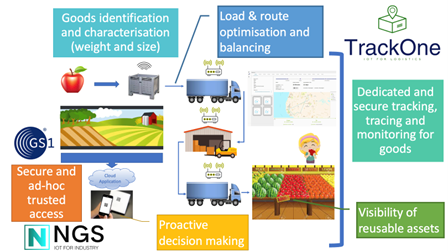 · What has been your company's and/or solution's biggest challenge thus far?
Mr Claudio Salvadori: We are trying to implement a horizontally scalable solution that is capable of integrating different IoT devices to monitor the supply chain in perishable goods. The data collected must be: (a) provided in real time to support proactive decision making and improve goods security, and (b) interoperable, transparent, and part of a democratic process that also exploits trusted ledgers.
· What opportunities will ATLAS offer your solution and/or company? How will this interoperability network help you develop and nurture your business case?
Mr Claudio Salvadori: ATLAS helps us connect two worlds – agriculture and logistics – by enabling interoperability in both domains. What's more, ATLAS facilitates interoperability in the agricultural domain through GS1 EPCIS 2.0, the internationally recognised standard in supply chains and logistics.
· What was/were the main reason(s) why you decided to participate in the ATLAS Open Call 2021?
Mr Claudio Salvadori: The first reason why we decided to join ATLAS was to continue the development of our solution, TrackOne. The second had to do with tailoring our solution to the broader field of business and exploit our opportunities there – including in last-mile logistics for perishable goods. Having an interoperable solution in agriculture and logistics will help us leverage these business opportunities.
· Finally, let's take a quick look into the crystal ball: What's going to happen with your company and/or solution in the future?
Mr Claudio Salvadori: We hope to integrate a solution that offers real and transparent traceability information to protect consumers from mistakes in goods handling and increase the quality of the food they consume. This goal will be achieved by enabling the entire EU supply chain in fruit, other foods, and wine to exploit the TrackOne solution from New Generation Sensors while making it part of the larger scenario pertaining to the physical Internet (an objective the EU is seeking to accomplish by 2030).
---
Did you enjoy this interview? Anyone interested in these innovative solutions can obtain key insights at the ATLAS Demo Day 2022 on 23 November (save the date!) or get in touch with these innovators via email at claudio.salvadori@ngs-sensors.it. Meanwhile, stay tuned for more upcoming interviews with the ATLAS 2021 Open Call winners via the ATLAS mailing list or AZO's blog!